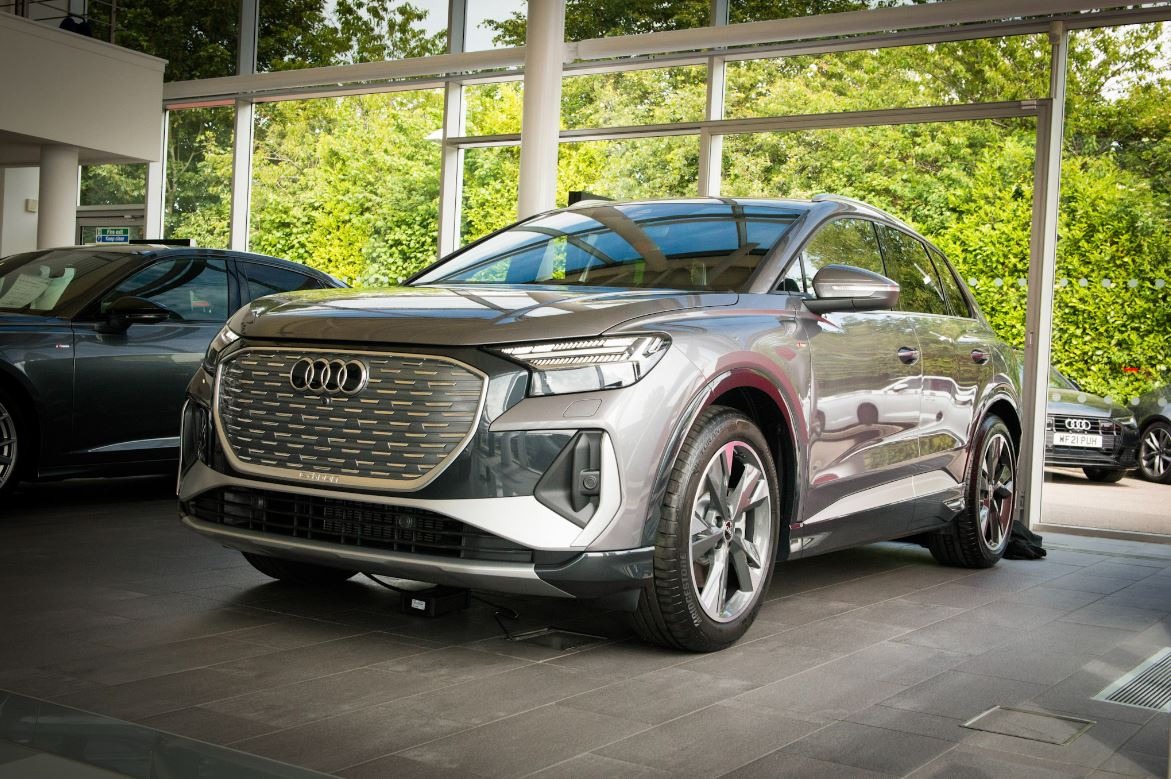 The all new Q4 e-tron is now available
The pioneering electric drive of the e-tron, the unmistakable design aesthetic of Audi: both come together in Audi's first compact, fully electric SUV
Available in 35 and 40 battery/powertrain variants with a range of up to 208 and 316 miles respectively
Both can recharge from 5 to 80% in 38 minutes when using a rapid charge public station - easily topping you up during a coffee break. At home, a domestic charging wall box with a capacity of 7kW AC will comfortably allow you to replenish the battery overnight.
The wide and ever-growing network of charging stations gives you peace of mind for longer journeys
For company car drivers the Q4 e-tron falls into the 1% Benefit-in-Kind band for the 2021/22 tax year. As such as 20% of taxpayers will pay from just £6.78 a month in BiK and a 40% taxpayer just £13.57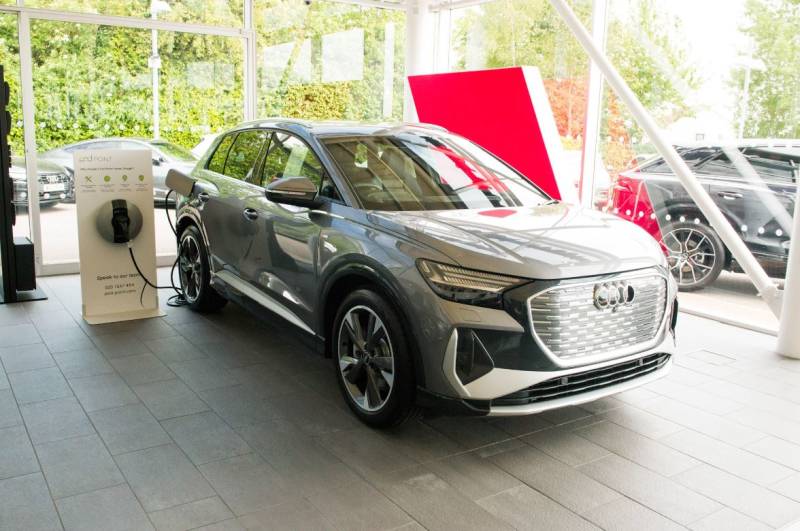 Powerful options.
Initially, the Q4 e-tron comes with a choice of two batteries and two powertrain variants; the 35 e-tron, with a compact 52kWh battery producing 170PS and a range of up to 208 miles – or the 40 e-tron, with a large 77kWh battery delivering 204PS and a range of up to 316 miles. Both are rear-wheel drive – while later this year the even more powerful Q4 e-tron quattro, featuring the renowned Audi all-wheel-drive system, will also be available. Q4 Sportback e-tron battery and powertrain information will be available at a later date.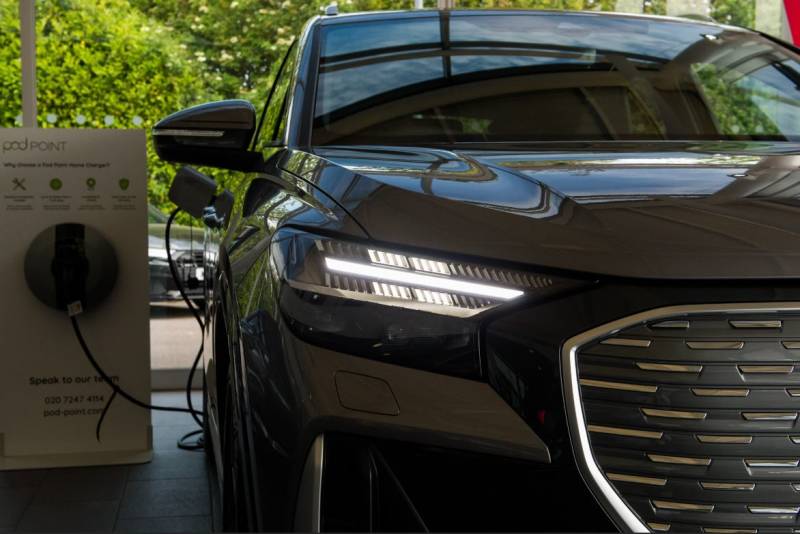 Distinctive by design.
The Q4 e-tron makes a statement - its strong and precise lines give it an assured and sophisticated presence. A powerful body with a high front, wide stance, and large wheels suggest the strength of an SUV. While the large, enclosed single-frame grille signifies it as an electric Audi. The Q4 Sportback e-tron model adds a dash of coupé to the SUV; its sloping roofline creates a silhouette that arcs rearwards and ends with a horizontal spoiler at the lower level of the rear window's edge. As a final flourish, a dramatic light strip - part of the optional Matrix beam package - illuminates the entire rear width of the cars.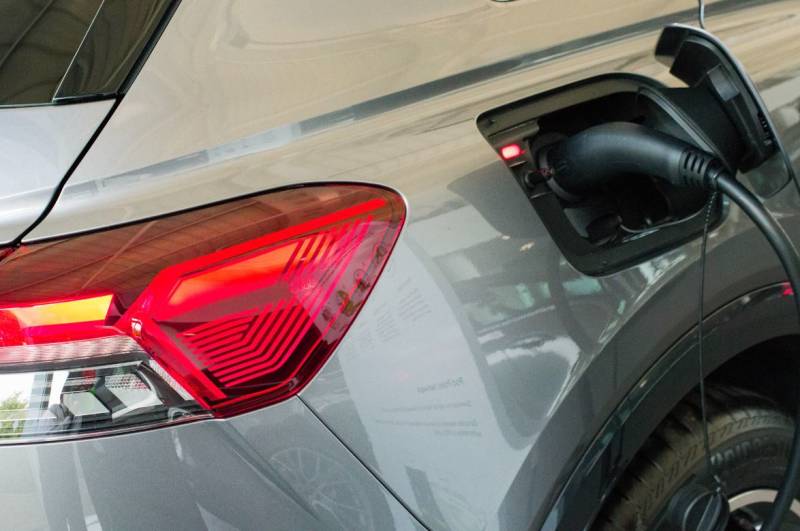 Fast charging.
When it's time to recharge, the 35 e-tron has a 100kW DC charging capability and the 40 e-tron has 125kW. This enables both to recharge from 5 to 80% in 38 minutes when using a rapid charge public station - easily topping you up during a coffee break. Back home, a domestic charging wall box with a capacity of 7kW AC will comfortably allow you to replenish the battery overnight.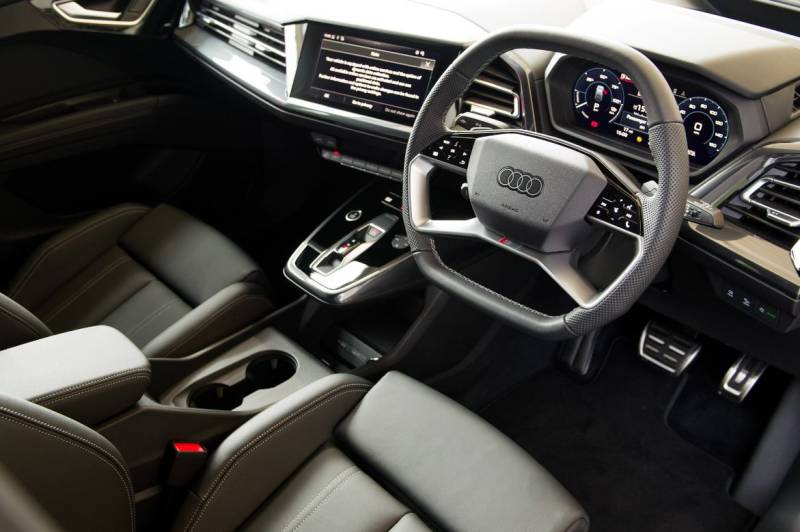 Technologically advanced.
The Audi Q4 e-tron models are packed with the latest Audi innovations: a first for Audi a new optional head-up display uses augmented reality to project driver information seemingly onto the road. Another first is the optional SONOS premium sound system, while standard equipment includes Audi Virtual cockpit; MMI Navigation plus with a 10.1" touch screen, and a double-spoke design steering wheel with the touch-sensitive operation.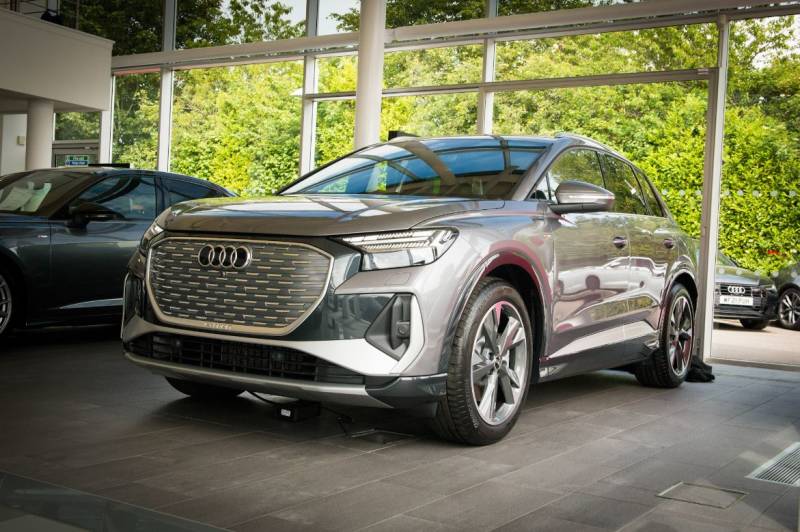 Compact yet spacious.
Free from the conventions of combustion power, Audi designers have created a new kind of cabin for the Q4 e-tron models. The absence of a powertrain 'tunnel' along the middle yields considerably more knee and legroom. Even with its compact design, there's up to 520 litres (Q4 e-tron) / 535 litres (Q4 Sportback e-tron) of luggage space, plus an array of clever storage compartments that make it the ideal family all-rounder. And, with most controls contained within the touch screen and next-generation, multi-function steering wheel, the futuristic dash has a modern, clutter-free look.
If you would like to view the Q4 e-tron, please email sales@yeovilaudi.co.uk or call 01935 574981.
Latest News