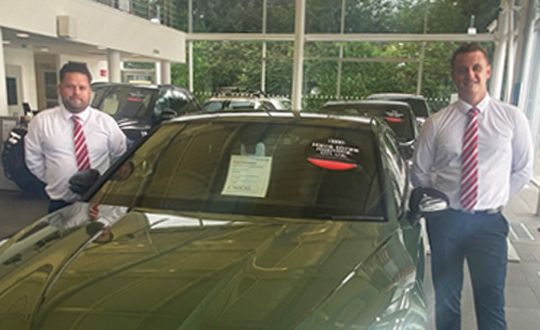 New appointments at Yeovil Audi
We have been delighted to welcome so many customers to Yeovil Audi following the reopening of the showroom on 1st June and would like to thank you for your continued support.
The ongoing growth of both our sales and aftersales departments has allowed us to recruit two new members of staff, and we are pleased to welcome Gavin Hiscox and Michael Hodnett to our team.
Gavin joined Yeovil Audi in July as our new Workshop Manager, leading our team of ten technicians and making an immediate impact in our busiest ever month. He has over 15 years of experience in the automotive industry, previously working as a technician and most recently a Workshop Manager at Salisbury Audi.
Having relocated to Somerset with his family, Michael joined Yeovil Audi in August. He previously worked for Chelmsford Audi and brings a wealth of experience and enthusiasm for the Audi brand. He is a fully accredited sales specialist including Audi Sport, e-tron, and Motability.
Dylan Fennell, Head of Business, said: "I'd like to formally welcome Gavin and Michael to Yeovil Audi. Gavin will play a key role in ensuring we surpass our customers' expectations and efficiently complete the work on their cars. This will be critical in the short term due to the increased number of MOTs which will be required following the temporary six-month extension period because of the lockdown."
"Michael joins us at a really exciting time, with a raft of new Audi models due in the coming months. As an e-tron specialist, he will be able to advise customers on the benefits of the new electric and hybrid Audi models, along with the rest of the range."
Latest News