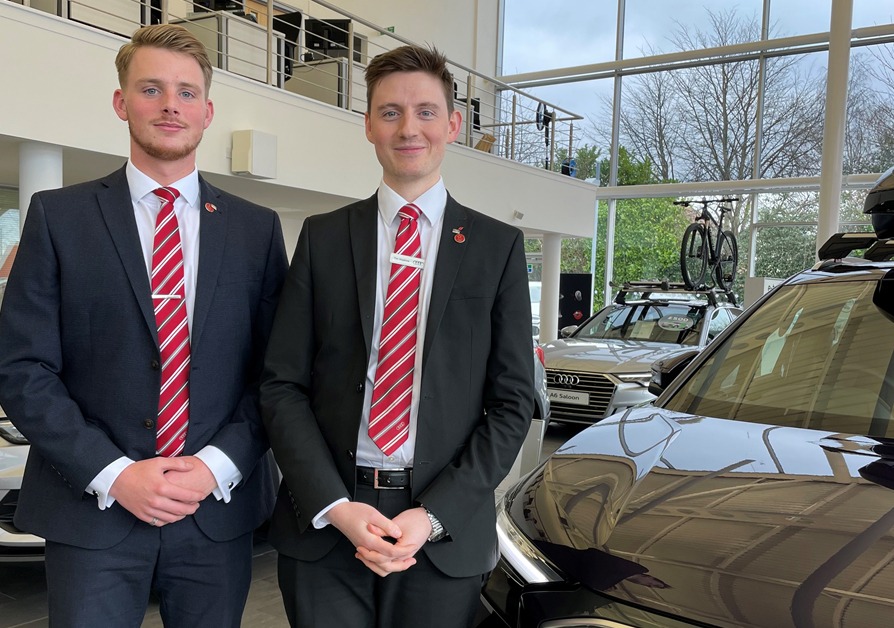 Introducing your Audi Electric Vehicle Specialists
Fully electric and plug-in hybrid models accounted for almost one in five new car registrations in 2021. With the continued growth of these models, combined with Audi's ever-growing Electric Vehicle (EV) range, we are here to support you in making the change to electric.
We recently received Electric Vehicle Approved (EVA) accreditation from the National Franchised Dealers Association (NFDA), recognising our excellence in the electric vehicle sector. This accreditation recognises our expertise in both sales and servicing and promotes industry standards for your benefit.
Our Audi Electric Vehicle Sales Specialists are Dan Costelloe and Tim Hopkins. Dan and Tim have achieved this additional accreditation through Audi UK, following extensive training and practical tasks. They are available to provide you with the information and guidance you need when choosing your next car, with a specific focus on the benefits of a plug-in hybrid or fully-electric Audi. They will work with you to assess your individual requirements and driving patterns to help you make the right choice.
If you are considering a fully-electric or plug-in hybrid Audi, we also have several other ways to support you.
EV&me App
The EV&e app is available on the Apple App Store and Google Play. It lets you compare useful performance and charging time information between models. You can also choose a default model to track journeys and easily switch between models to compare running costs. There is also a wealth of information on charging, maximising range, grants, and incentives to help you decide whether switching is right for you.
Electric Drive Event
If you want to experience a fully-electric Audi yourself, book a place at our Electric Drive Event. Choose from the fully-electric Audi e-tron or Audi Q4 e-tron and take the car on a drive around our planned route, collecting a gift from us along the way.
Latest News