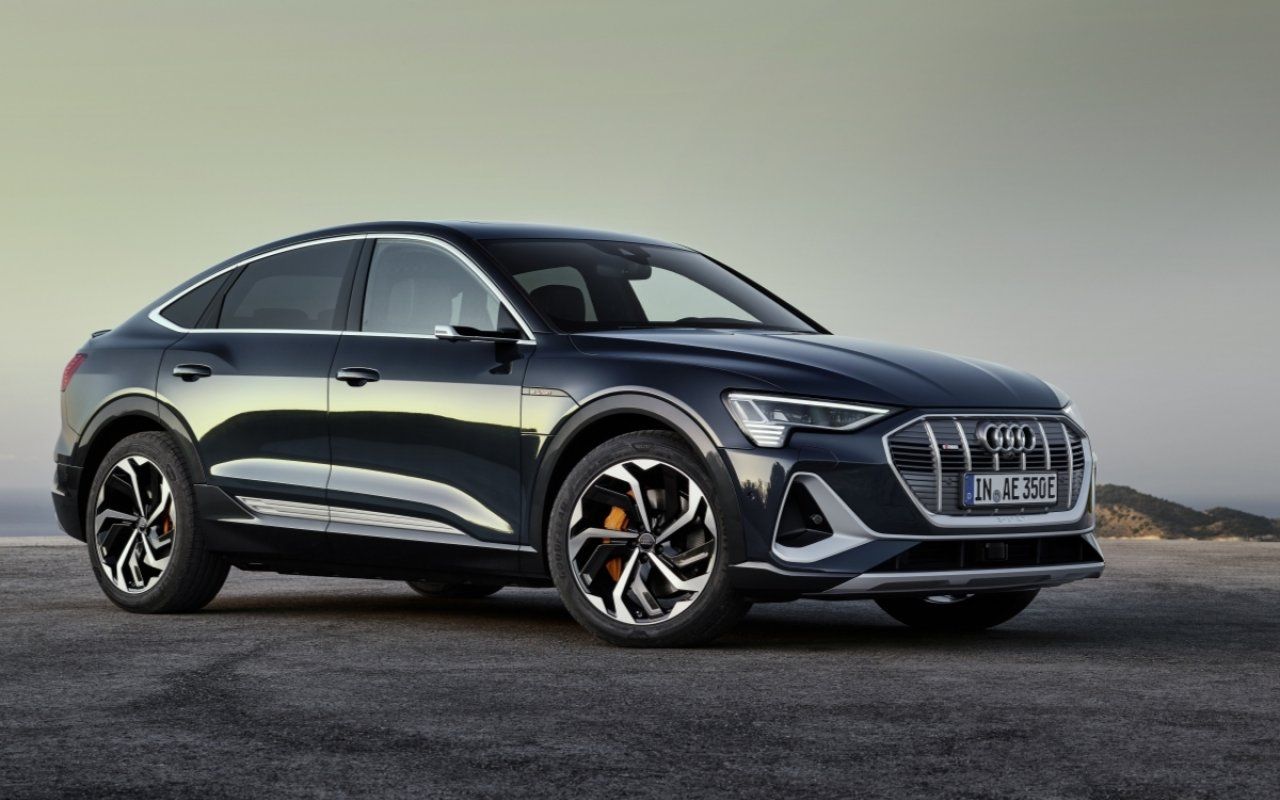 Audi e-tron Sportback. All style. All electric.
All style. All electric.
Following on from the Audi e-tron and continuing the electric Audi adventure, we're excited to reveal our second fully electric car. With its sloping roofline, the new Audi e-tron Sportback 55 makes an immediate impression. And not just in appearance. Thanks in part to its streamlined, aerodynamic design, the second all-electric car coming soon to the Audi range can travel up to 240 miles* on a single charge of the battery.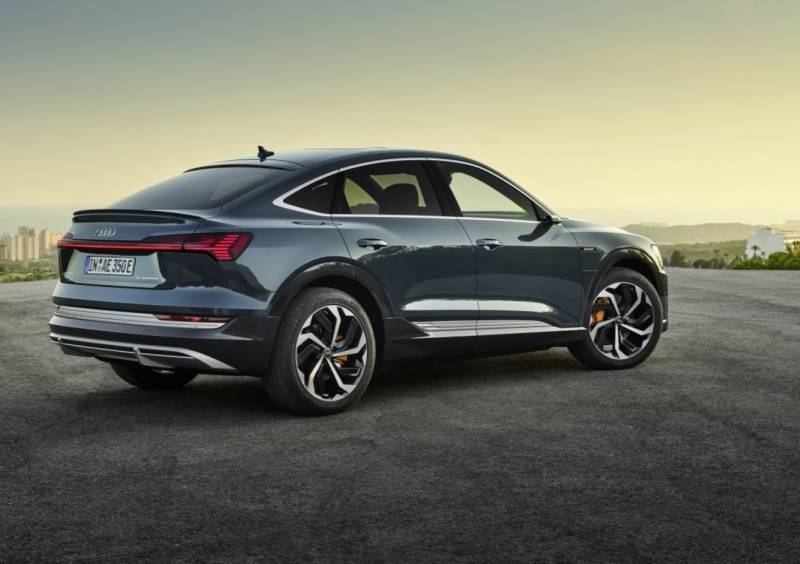 Two motors. Four-wheel drive.
The Audi e-tron Sportback 55 has two electric motors – one above each axle, propelling all four wheels with sure-footed traction regulated by Quattro all-wheel-drive. For efficiency, the electric SUV relies mostly on the rear motor; but when extra grip is called for, Quattro seamlessly activates the front motor, too. With a power output of 300kW in boost mode, both motors pack an electric punch, taking just 5.7 seconds to reach 62mph from a standing start.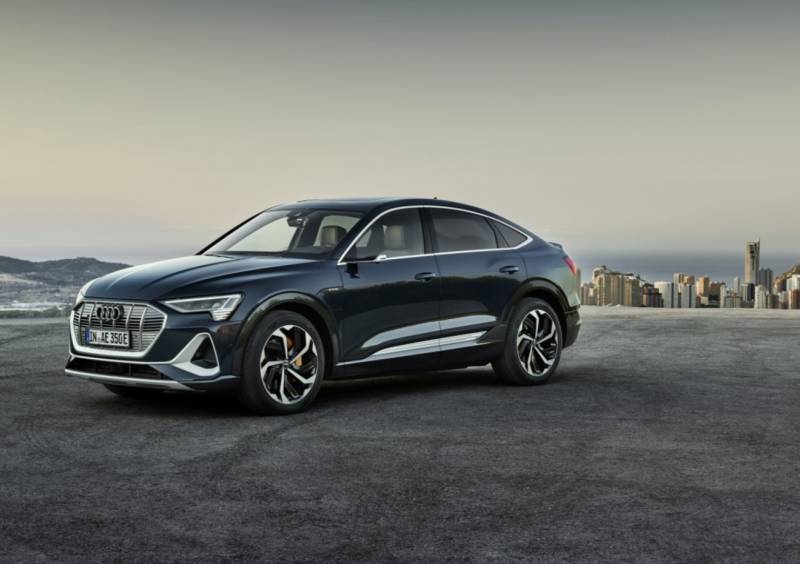 Streamlined looks. Stand-out features.
Sculpted, coupé looks. 21" wheels. Platinum grey single-frame grille. Even from afar, the e-tron Sportback 55 has a style all of its own. Look closer and you'll notice features that confirm it. From little details, like the orange e-tron logo on the charging cap and optionally on the brake callipers, to the Matrix LED headlights at the front and the single light strip that connects the LED lights at the back; it's an SUV that stands out in every sense.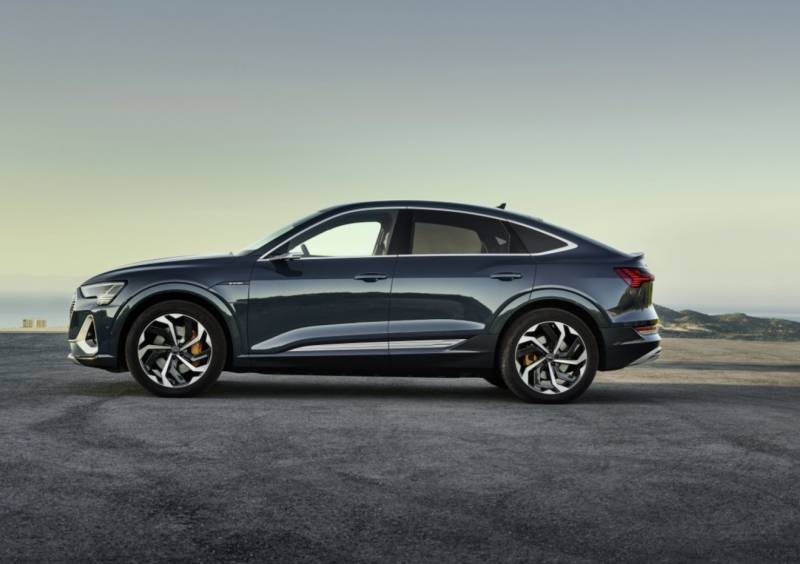 Rapid charging, longer-lasting.
In test conditions, the e-tron Sportback 55 yields a best-yet range of 240 miles* on a full charge. Astonishingly, up to 30% of that range comes from recuperation, where energy derived from braking and coasting is diverted back to the battery. And when you do need to charge on longer trips, the e-tron Sportback 55 readily takes the surge of 150kW at fast-charge stations - topping the battery up to 80% of its capacity in under 30 minutes.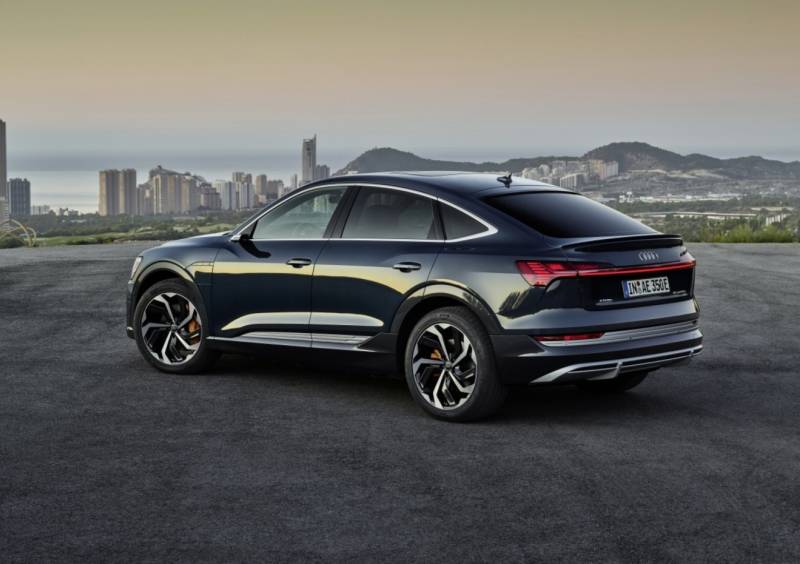 Arrive comfortably.
It's not just the battery range that'll get you there comfortably. Inside the e-tron Sportback 55, you'll find ample space for 5 in a sound-proofed cabin that blends elegance and technology. Sport seats come as standard, putting you in front of a sweeping instrument panel that houses Audi Virtual Cockpit. Gloss-black touch-screen displays, concealed when not active, control everything from the MMI Navigation plus infotainment system to driver assistance technologies. Even Amazon's Alexa voice assistant is fully integrated into the car's operating system.
The new Audi e-tron Sportback 55 arrives in the UK in early 2020.
Latest News