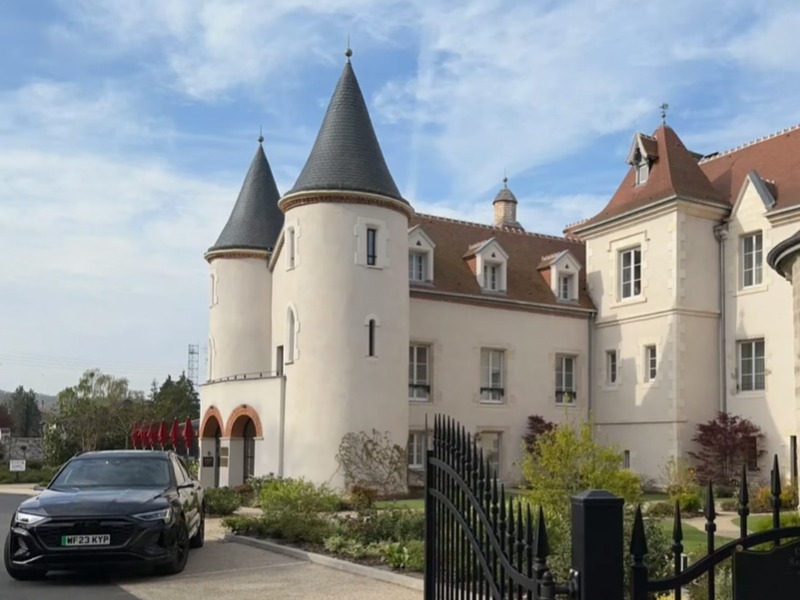 Audi e-tron adventure
In late April, we embarked on an unforgettable journey in the stunning, fully-electric Audi Q8 e-tron, traveling from Yeovil Audi to Montpellier in the south of France. This adventure, covering nearly 1,900 miles, combined luxury and sustainability as we aimed to discover the capabilities of Audi's latest electric model, boasting an official range of over 300 miles on a single charge.
Starting at the Folkestone Eurotunnel, we topped up our Q8 e-tron at a nearby Tesla open charger, ensuring a fully charged vehicle upon arrival in France. Our first day included beautiful sights and a stay at the Mont Royal Chantilly, where we discovered three complimentary electric chargers.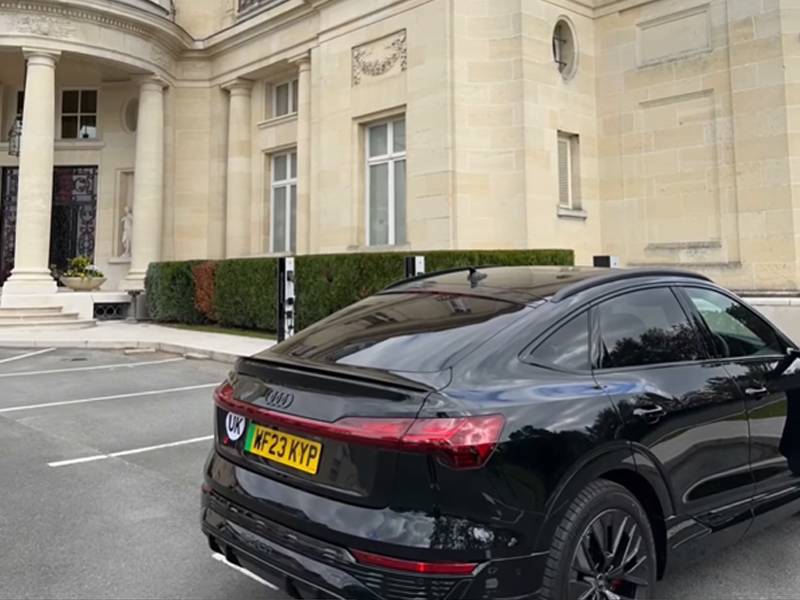 With a fully charged battery we explored Chateau Chantilly, drove around Paris, and enjoyed a quintessential French lunch featuring baguettes and cheese. We topped up the battery at an Ionity charger, adding 55% in just 20 minutes. This efficient charging experience allowed us to add over 150 miles of range without any wasted time. Our journey continued with a stay at Chateau Saint Jean, followed by crossing the impressive Viaduc de Millau, the tallest bridge in the world.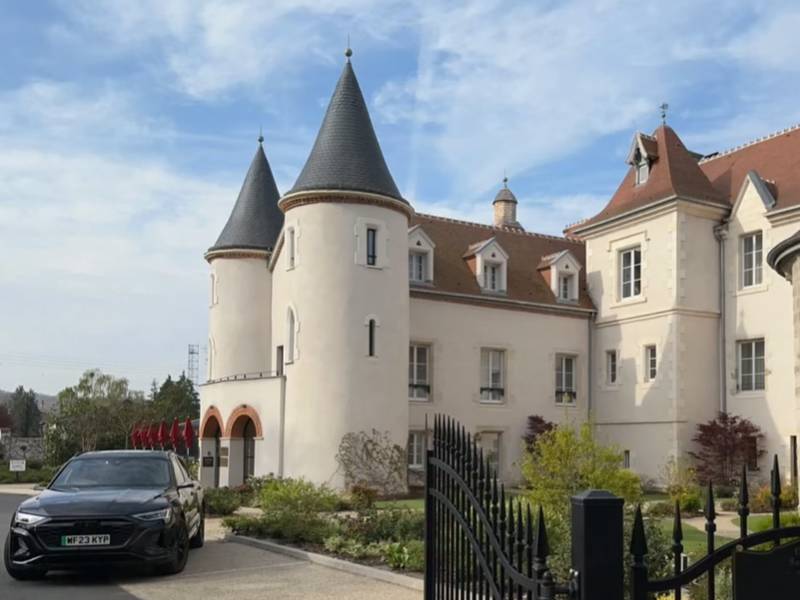 After 900 miles of incredible experiences, we reached the beautiful south coast of France. We spent two nights at the luxurious Hotel Spa Plage Palace in Montpellier, taking a well-deserved break from driving to recharge not only our Q8 e-tron but also ourselves. We relished the stunning coastal views, indulged in local cuisine, and explored the vibrant city, fully immersing ourselves in the Mediterranean atmosphere. This rejuvenating stop prepared us for the second leg of our journey.
We then resumed our return journey to Yeovil Audi, stopping at Maison Pic in Valence and indulging in a delightful meal at their Bistro, André. The restaurant even provided a free charge for our Audi Q8 e-tron - an unexpected perk of driving an electric vehicle!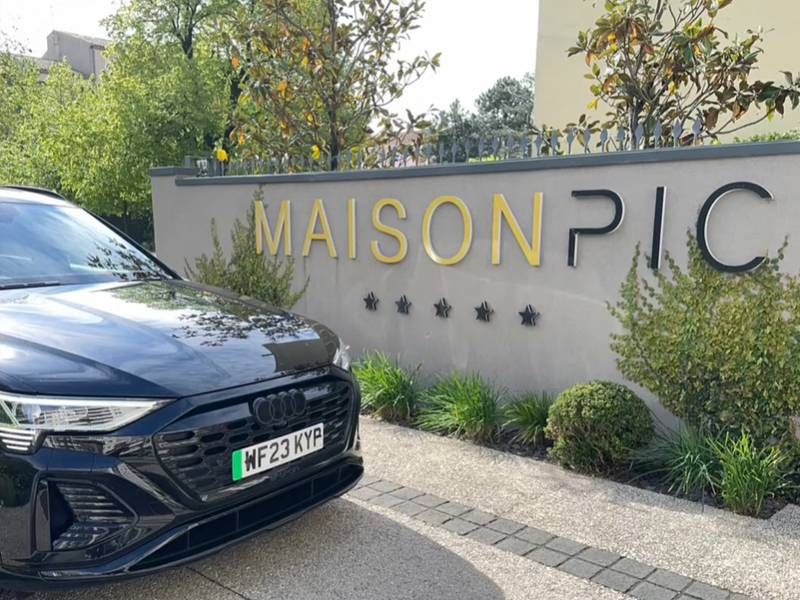 In Dijon, we sampled authentic Dijon mustard and stayed at the Grand Hotel La Cloche Dijon, which also offered a complimentary charge for our Q8 e-tron. Our adventure continued with a visit to the caves at Champagne Pommery and a stay at the luxurious Royal Champagne hotel, where we enjoyed another free charge. Our journey concluded with a wine and cheese shopping spree at Carrefour before heading back to the Eurotunnel.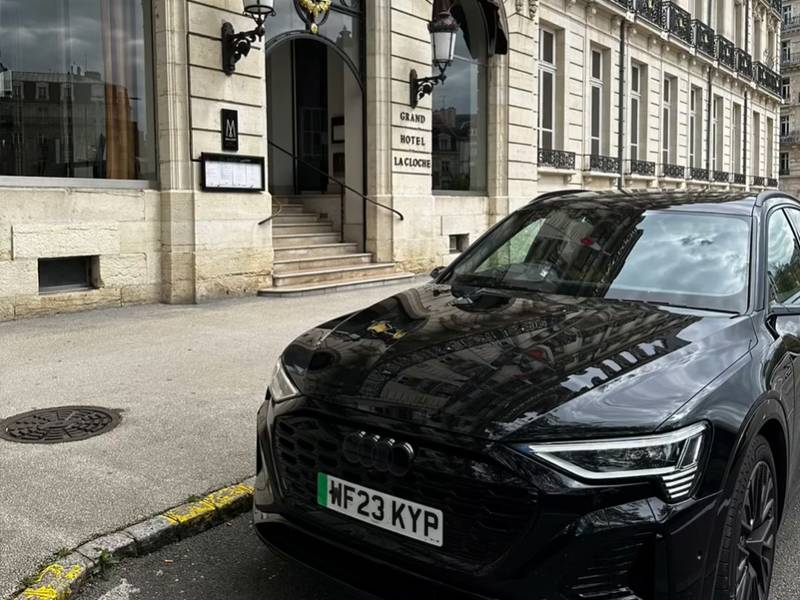 Reflecting on the trip, the Audi Q8 e-tron remained as comfortable as it was at the beginning of the journey. Dylan Fennell, Head of Business, commented, "Having covered almost 1,900 miles in the space of a week, the Q8 e-tron has all the comfort, technology, and luxury you'd expect from an Audi. While driving an electric vehicle requires some planning for recharging, we spent no more than 5 minutes per day on this task, thanks to the excellent charger network in France and the Q8 e-tron's route suggestions."
He added, "We also benefited from numerous complimentary charges, and when we paid, the Audi Charging Card provided fantastic value. Although we couldn't cover 500 miles or eight hours of driving without stopping, the speed of recharging, cost savings, and environmental benefits made the overall experience truly enjoyable!"
If you would like to find out more about this trip, please email dylan.fennell@yeovilaudi.co.uk and we'll be happy to tell you more!
Find out more about the hotels we stayed in...
Latest News