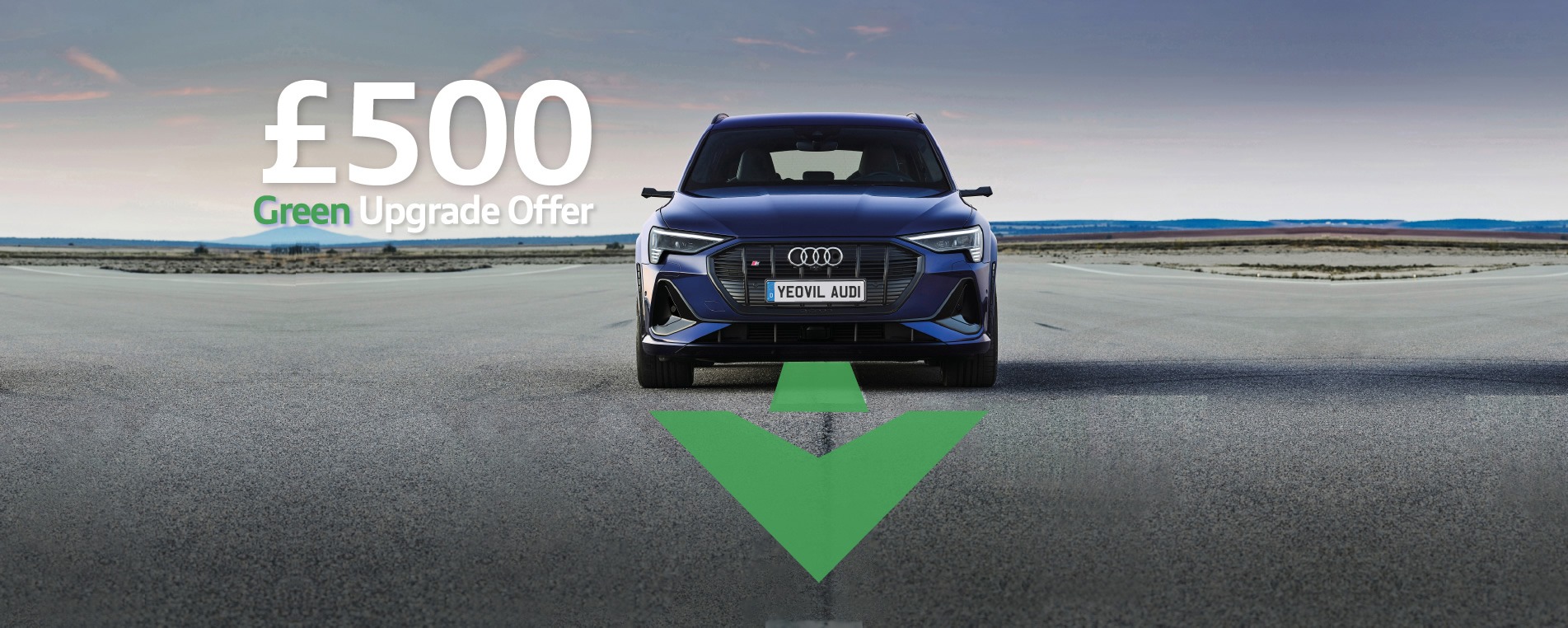 £500 Green Upgrade Offer
If you have been thinking about upgrading to a hybrid or electric Audi, now is the time.
Part-exchange any petrol or diesel model for a hybrid or fully-electric Audi and receive an additional £500 upgrade offer. This offer is available when part-exchanging your car for either a New or Approved Used Audi model at Yeovil Audi and is in addition to all other offers.
To receive your £500 upgrade voucher, simply complete your details here
Benefits of upgrading to a hybrid or fully-electric model
Charge your car from home, no need for trips to the petrol station
Better for the environment with no tailpipe emissions when driving in electric mode
Our plug-in hybrid cars have a combustion engine and electric motor, with a range up to 41 miles and a combustion engine if you make frequent long trips
Long range fully-electric cars with a range of up to 323 miles
Fuel cost savings with electricity currently around two-thirds cheaper than petrol or diesel resulting in a cost of approximately 6p per mile vs 17p per mile for a combustion engine model
Tax savings on Vehicle Excise Duty (VED) and for company car drivers Benefit-in-Kind (BiK)
To receive your £500 upgrade voucher, simply complete your details here
Terms and conditions apply. Offer available for vehicles ordered by 30th June 2022.
All vehicles are tested according to WLTP technical procedures. Figures shown are for comparability purposes; only compare fuel consumption, CO2 and equivalent electric range figures with other vehicles tested to the same technical procedures. These figures may not reflect real life driving results, which will depend upon a number of factors including but not limited to optional factory fitted options, accessories fitted (post-registration), variations in weather, road and traffic conditions, individual driving styles, vehicle load , vehicle condition, using systems like climate control (and, for battery electric vehicles, the starting charge of the battery).
Figures for plug-in hybrid vehicles were obtained using a combination of battery power and fuel. Plug-in hybrid vehicles require mains electricity for charging.
Figures for battery electric vehicles were obtained after the battery had been fully charged. Battery electric vehicles require mains electricity for charging. Zero emissions while driving.
Figures quoted are subject to change due to ongoing approvals/changes and range figures may include options not available in the UK.
Data correct at March 2022
According to UK Power - https://www.ukpower.co.uk/home_energy/tariffs-per-unit-kwh, the average electricity cost is currently (January 2020) 14.37p/kWh